It's Time to think 2015!
Plan your 2015 personal clinic, retreat, or Girlfriend Getaway here at the T&T Ranch in Haines, Oregon.
| | |
| --- | --- |
| | Mountain Riding & Trail Course Clinics |
| | Ranch horse & Cow work |
| | Work in Hand |
| | Dressage Principles |
| | Doma Vaquera |
| | Private Lessons |
| | Quadrille |
| | Mule - Long-ears Clinic |
| | Always Individualized Attention |
| | Positive Attitude in a Beautiful Environment! |
Note: We will be offering a mid-week and a SATURDAY 'Horse Course' this winter! Now there is no excuse for our local friends to ride during the winter months.
The 2015 schedule is always a work in process! Give us a call to see if dates have changed.
Are You Serious about Your Commitment? Read about Alice's
~Horse Study~
Horse Study Coming Up in 2015.pdf
In 2014 we graduated the Freshman call of Horse Study...A four-year commitment of study to truly understand Classical Horsemanship. We will offer only one more opportunity to begin this Horse Study journey, which will begin in 2015. Limited to 6 people.
Ask how you can bring Alice to your area, develop your own 'Girl-Friend Getaway' and allow us to custom fit a clinic to you!
Click here to download: 12-5-14 2015 draft Schedule.pdf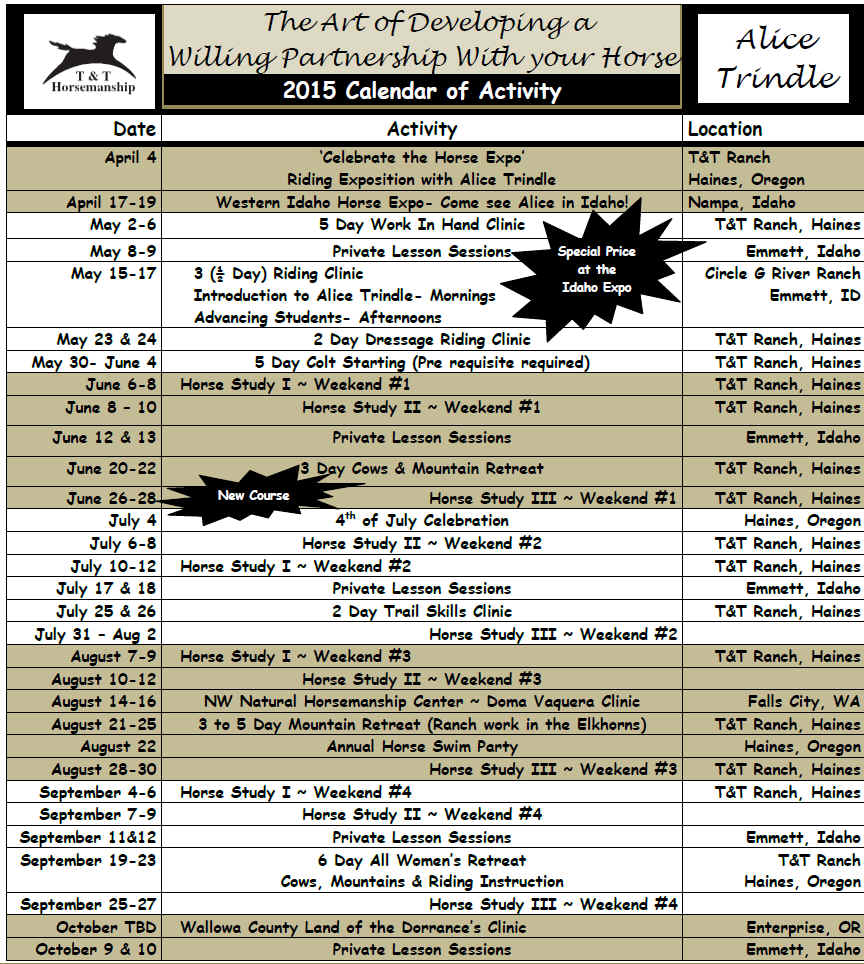 We are open to your ideas to fit your needs and time schedule. Let's Talk!
Put together a clinic in your area and ride FREE! Click here for our Hosting pdf: 2015 Hosting Letter.pdf
*f the above schedule does not meet your needs or time availability, give us a call. We can tailor an agenda to meet your individual or small group needs.

*Non-refundable deposit is due 30 days prior to first day of class. Total payment required first day of course/class/forum/workshop.

 

No make-ups for missed sessions.

It's time to sign-up for the FUN!
Treat yourself & your horse!

T&T Horsemanship
15477 Sky Ranch Lane
Haines, OR  97833

Phone: (541) 856-3356 
Cell Ph: (541) 519-7234
Website: tnthorsemanship.com
Email: tnthorse@eoni.com

Sign-up Today!
The Art of Developing a Willing Partnership